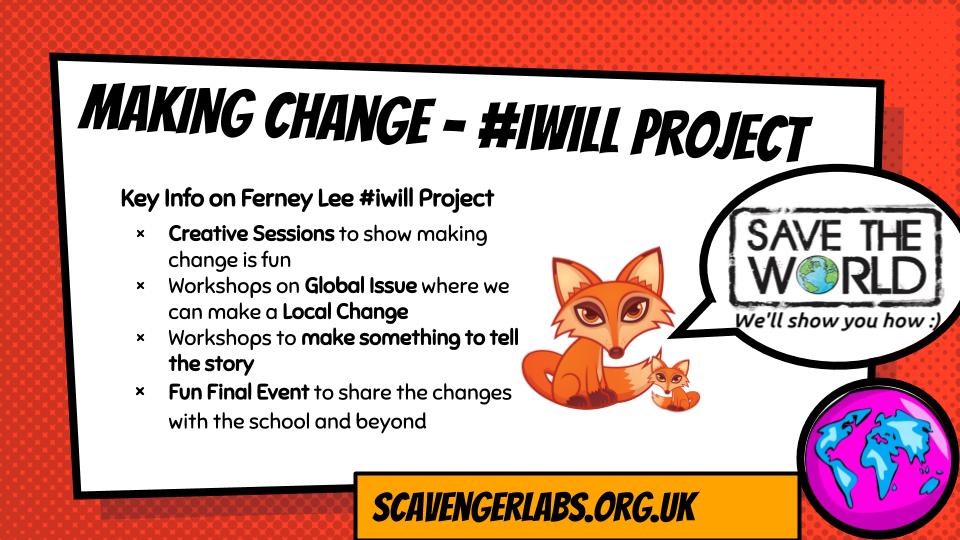 Press Release #iwill / Making Change Project
Scavenger Labs are a new social enterprise concerned with environmental and science education. We are running a social action project in partnership with Todmorden High School and Todmorden Learning Centre to raise environmental awareness and promote positive behavioural change as part of the #iwill programme. https://www.iwill.org.uk/
Thanks to a grant from the Community Foundation for Calderdale we will work with young people and families from Todmorden High to create a campaign around waste and creative approaches to behaviour change.
Key Info on #iwill Project
6 Creative Sessions

to make a plan for change (Feb - March 2020)

StudeChoose a

Global Issue

where we can make a

Local Change

Learn from experts on how to

make change happen

Fun Final Event

to share the changes with the school and beyond (April)
How to find out more
We will be presenting the project at a Taster Day for the Todmorden Learning Centre to let families know more about it so they can get involved. This will be accompanied by an interactive Art meets Creative Science show by Noisy Toys (noisytoys.org)
https://www.facebook.com/events/2431186320261914/?active_tab=discussion
We will also present the Making Change project at another upcoming event Todmorden Repair Cafe, a family friendly event where volunteers repair broken household items.
https://www.facebook.com/todrepaircafe
This is another chance to see the interactive Art meets Creative Science show by Noisy Toys (noisytoys.org) and to join our Unmaking table where we take apart domestic electronics to gather materials for creative art projects.
For more information on Making Change or these projects please contact admin@scavengerlabs.org.uk or call 07913882193
Key info on the #iwill scheme
The #iwill Fund brings together a group of organisations who all contribute funding to embed meaningful social action into the lives of young people.

Social action involves activities such as campaigning, fundraising and volunteering, all of which enable young people to make a positive difference in their communities as well as develop their own skills and knowledge.

The #iwill Fund supports the aims of the #iwill campaign - to make involvement in social action a part of life for young people, by recognising the benefit for both young people and their communities.
---
See also