Date TBC
Buggy Battles is now full but please contact - steve (at) noisytoys (dot) org - if you would like to take part in futures rounds. This will be the first of what we hope will become a regular event. Buggies built from recycled materials and controlled by portable programmable devices will battle and race against each other. All participants will get experience at coding and Making and together we can start to build more intelligent, complex and brutal buggies for the next round. Workshops, resources and support will initially be available online through lockdown.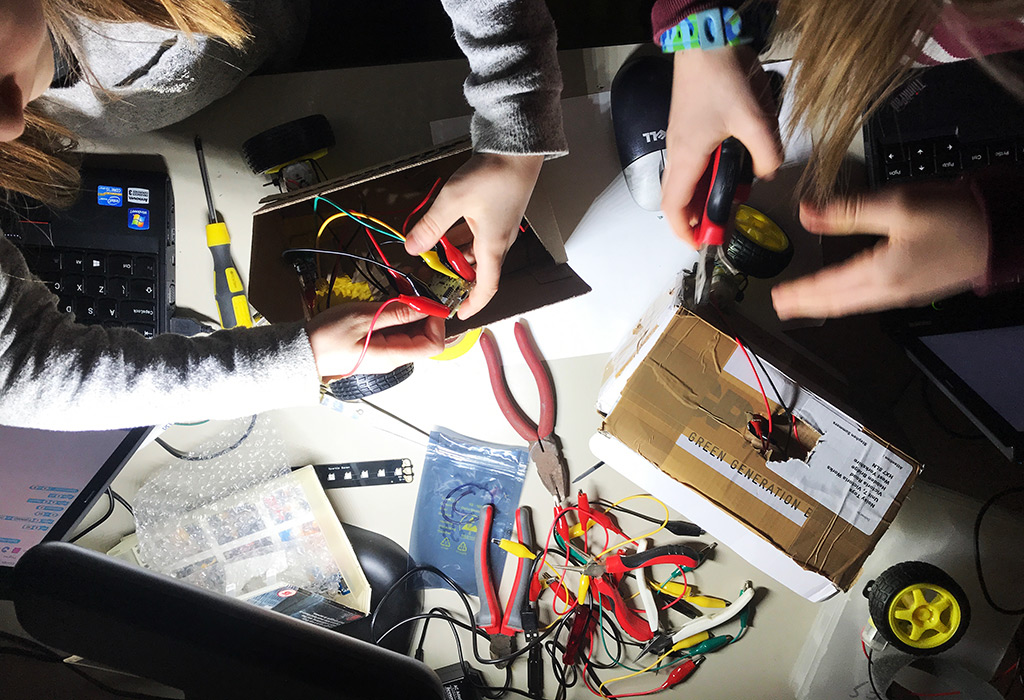 Details HERE.
We are recommending the Crumble controller as it's easy to get started and you can connect the motors straight on to it, but there is no reason that Microbits, Arduinos or Pi could not be your controller. The Buggies must be built and coded by the participants NOT THEIR PARENTS. There will be workshops to help with this.
The Battles will take place… when we're ready. No date fixed as yet. This project is currently only accepting participants who are already working with us; we are looking for funding support so that it could be opened up to a wider group of participants.
The exact Rules of Engagement have not been finalised. These are provisional and open to suggestions.
Buggies
Must be built from cardboard? [Should we allow any UPCYCLED material including metal?]
Must be programmed and controlled using a Crumble, Microbit, Arduino or Raspberry Pi
Cannot be physically adapted between rounds, but can be re-coded
Newly recharged batteries will be inserted before each round [all the same brand?}
Challenges:
Race Straight 5m race, started by removing a barrier in front of all buggies, so that they must be coded to start automatically

Sumo 1-on-1 wrestles between 2 contestants at a time. All buggies ranked on overall successes after all wrestles. First to push either of their opponent's wheels out of a 2m circle wins.

Style Each buggy is judged on it's appearance by all contestants and spectators -with no favouritism. Contestants cannot vote for their own buggy.

Assault Course Each buggy must complete 3 levels of assault course using sensors to detect obstacles and code to alter it's course. Each level will increase in difficulty, with more points awarded for successful completion of each.

Melee A chaotic battle of several buggies. Not quite sure how this would be judged but it would be fun anyway.
---
See also